4 reasons why FMD Advisers are different
Thanks to the Royal Commission into the banking and financial services industry, there is plenty of media coverage about the poor advice provided by some planners, mostly those linked to big banks or financial institutions.
FMD on the other hand has hundreds of satisfied clients – so what makes us different?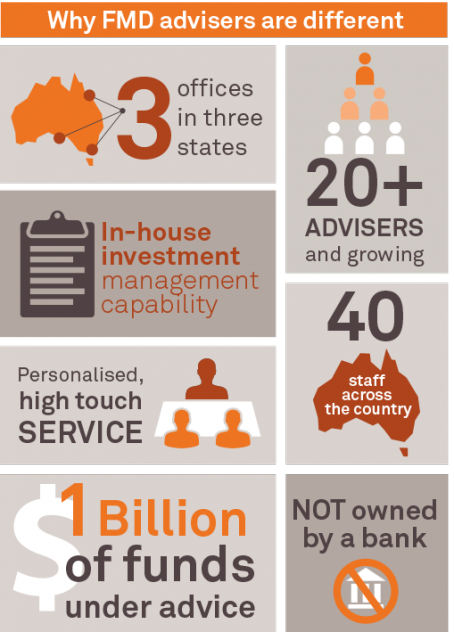 1. Ownership
Unlike 75-80 per cent of advisers out there, we are not owned or licensed by one of the big four banks or AMP. Our advisers own our business and this aligns our interests with our clients for the long term, allowing us full control of what we offer to our clients.
2. Professionalism
All of our advisers are members of the Financial Planning Association of Australia and have a commitment to the highest professional standards. The majority of our advisers are CFP®, Certified Financial Planners® – the peak qualification for financial advisers.
3. Quality Investments
FMD's internal Investment Committee selects the best direct investments and fund managers from around the world; retaining the services of external investment specialists Zenith Investment Partners, Lonsec Research, Peak Investment Partners and Caravel Consulting to provide professional and independent research with a focus on investment risk management.
4. Transparent Fees
FMD Financial charges a fee based on each client's individual needs. We put our clients' needs first. We don't receive any hidden commissions and our fees are agreed upfront.
If you're looking for a qualified adviser who can help you achieve your best financial future, read our take on how to find a financial adviser you can trust.
Get your financial questions answered
---
General advice disclaimer: This article has been prepared by FMD Financial and is intended to be a general overview of the subject matter. The information in this article is not intended to be comprehensive and should not be relied upon as such. In preparing this article we have not taken into account the individual objectives or circumstances of any person. Legal, financial and other professional advice should be sought prior to applying the information contained on this article to particular circumstances. FMD Financial, its officers and employees will not be liable for any loss or damage sustained by any person acting in reliance on the information contained on this article. FMD Group Pty Ltd ABN 99 103 115 591 trading as FMD Financial is a Corporate Authorised Representative of FMD Advisory Services Pty Ltd AFSL 232977. The FMD advisers are Authorised Representatives of FMD Advisory Services Pty Ltd AFSL 232977.