Is your will and advanced care directive valid and up-to-date? 
---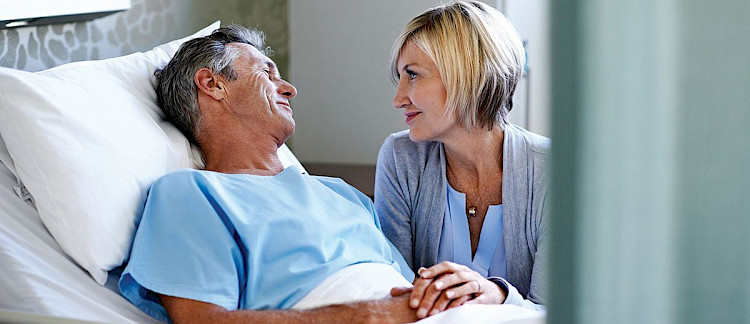 The COVID-19 crisis has reminded us all of the fragility of health and just how quickly life can change.
In living rooms across the country, conversations are taking place about what would happen if we suddenly became seriously ill; how would we take care of our families and how they would cope. While it's natural for a pandemic to be a catalyst for these discussions, it's more common that we avoid them.
So while it's a challenging topic, let's not waste this opportunity. All too often a bolt from the blue event occurs such as a heart attack, stroke or accident; or the point in time when dementia leaves a loved one unable to competently manage their financial or medical affairs without intervention.
We know that for family members and carers trying to provide support in these times it can be incredibly challenging, but we also know how much of a difference it can make, both practically and emotionally, to have the right estate planning in place. At times like this, families are already facing so much strain and effective Estate Planning eases that burden.
Most people find it difficult to have frank conversations with the people they love about what will happen when they die, their wishes and putting a plan in place. That's understandable, but anyone who has had to make quick decisions about medical care in an ICU waiting room, or carry the burden of decision-making for someone's end-of-life care, will tell you they wish that plan had been there to guide them.
Teresa Catalano - Owner and Managing Principal at iWills Legal – has seen this play out repeatedly in her career. She says, "Beyond the bedside, lack of knowledge about a family's true financial position or confusion or acrimony over the distribution of wealth after death, can add to grief and stress. Who gets the family home and how children should be provided for in the future, are all delicate, often emotional matters, that can be made less traumatic for those left behind by good estate planning and good family communication."
The Six Essential Elements of a Financial Legacy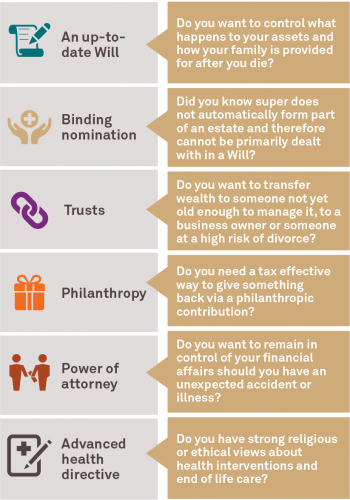 The starting point is an up-to-date Will that outlines how to distribute your wealth and provide for loved ones in line with your wishes. Ideally, the estate planning process goes beyond a Will, to include medical and financial Powers of Attorney and an Advanced Care Directive that gives your partner or family the ability to advocate for your wishes around medical care and interventions if you cannot.
Anyone who has stood at the bedside of a sick or injured loved one, or has been in that position themselves, knows how quickly illness or injury can strike. That's why Estate Planning is one of FMD's key pillars of advice and an important part of protecting wealth and removing the decision-making burden from those you love.
Important for every adult, it becomes particularly crucial for peace of mind once you start a family. If you have a blended family from multiple marriages, it's even more important that you have an ironclad plan with no room for confusion and conflict. Ensuring your Will is valid and knowing your assets will be passed on to your beneficiaries in exactly the way you intend is crucial.
If something good can come out of these times, it's that more people will think about the importance of Estate Planning and take action to put those plans in place.
---
Take the stress out of estate planning
---
General advice disclaimer: This article has been prepared by FMD Financial and is intended to be a general overview of the subject matter. The information in this article is not intended to be comprehensive and should not be relied upon as such. In preparing this article we have not taken into account the individual objectives or circumstances of any person. Legal, financial and other professional advice should be sought prior to applying the information contained on this article to particular circumstances. FMD Financial, its officers and employees will not be liable for any loss or damage sustained by any person acting in reliance on the information contained on this article. FMD Group Pty Ltd ABN 99 103 115 591 trading as FMD Financial is a Corporate Authorised Representative of FMD Advisory Services Pty Ltd AFSL 232977. The FMD advisers are Authorised Representatives of FMD Advisory Services Pty Ltd AFSL 232977.