How much would you pledge to live the life you want?
At FMD, we are always talking to our clients and community about the importance of setting financial goals and taking small steps now towards the future they desire.
We support Super Booster Day, an initiative launched by the Association of Superannuation Funds of Australia (ASFA) in partnership with Money Magazine to encourage people to pledge to contribute a little extra to their super.
This drive is specially targeted towards closing the gap in women's super. The current average super balance is $112,000 for women and $198,000 for men.
FMD Adviser, Lauren Abela, is worried that many women are on track to live a future lifestyle far from the one they desire or imagined for themselves. "However, there is a great opportunity to turn things around if each of us makes a strong commitment to boosting our super in the higher income years," says Lauren.
Why boost your super?
While Australians are getting better at actively engaging with their super, a lot of them put it off for 'later.' The reasons are usually:
1. I'm too young to plan for retirement
2. The rules keep changing and I don't have the time to track it
3. It's too complex
This lack of urgency is because most of us are simply unaware of our retirement income needs and think we have more time to accumulate wealth than is really the case.
According to the ASFA Retirement Standard, an individual will need $545,000 in savings while a couple will need $640,000 to retire 'comfortably.'
This means that you'd have a good standard of living, are able to purchase household goods, private health insurance, a reasonable car, good clothes, a range of electronic equipment etc. If you envision a lifestyle that includes dining out and travel, you will need to save even more.
Despite these facts, only 7 per cent of Australian employees are making extra contributions to their super. According to ASFA chief executive and Super Booster Day ambassador, Pauline Vamos, women have a much bigger challenge in saving for their future.
At FMD we believe that, with forward planning, women can make up the savings they may have missed when taking time out from the work force to raise children or fulfil other family commitments.
Similarly, while the changing rules can sometimes be overwhelming, sticking to a strategy and making small changes will always help you stay focused on your financial health.
Small amounts make a big difference: start today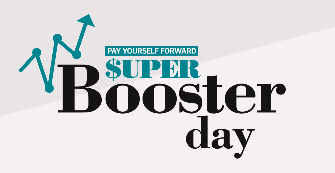 For more information on Super Booster Day, visit www.superboosterday.com.au.
Take the first step to grow your super balance. Complete our quick and easy online financial health check or book a meeting with a qualified adviser.
---
General advice disclaimer: This article has been prepared by FMD Financial and is intended to be a general overview of the subject matter. The information in this article is not intended to be comprehensive and should not be relied upon as such. In preparing this article we have not taken into account the individual objectives or circumstances of any person. Legal, financial and other professional advice should be sought prior to applying the information contained on this article to particular circumstances. FMD Financial, its officers and employees will not be liable for any loss or damage sustained by any person acting in reliance on the information contained on this article. FMD Group Pty Ltd ABN 99 103 115 591 trading as FMD Financial is a Corporate Authorised Representative of FMD Advisory Services Pty Ltd AFSL 232977. The FMD advisers are Authorised Representatives of FMD Advisory Services Pty Ltd AFSL 232977.