Working out how much insurance you need? Here's what not to do
As busy working professionals we all want more convenience in life. The number of comparison websites and online aggregators available for every product or service under the sun is evidence that we all prefer to consume data when it's presented in bite-sized portions that put the least demands on our time.
There are websites that provide easy and quick ways to compare insurance products, too. A convenient solution for an important, time-consuming decision! Great idea, right?
It depends on whether you've calculated the real cost of this convenience. You could spend hours of your time on comparison sites and still end up with poor quality insurance and inadequate cover for your family's needs. Ask yourself these questions before you get started.
Quality: Is this the right insurance cover for you?
A comparison website will ask you the bare minimum questions before offering suggestions on what products might be okay for you. For insurance information to be of any value, it must be based on a serious assessment of what's right for your needs.
A qualified financial adviser will consider the impact of a range of factors such as your income and expenses, debt, lifestyle, medical history and risk exposure before recommending the right policy for you.
Time: How long should it take to work out the right insurance cover for you and your family?
When you visit an insurance comparison website hoping for some quick answers, you will find that the process is not as quick or straightforward as you'd been given to believe. Instead, you will receive a call from the comparison company for a phone consultation at a later time.
It's a much better use of your time to speak to a qualified finance professional who will be upfront about the process and how long it is likely to take, and provide you with information that is unbiased and has no ties to any insurance providers.
Peace of mind: Will you have enough money if the worst happens?
Getting sufficient cover and the right kind of insurance is hugely important and not something you can decide on a comparison site. At best, you'll end up with some cover. At worst, you'll decide it's all too hard and never get around to protecting your family.
The below image gives you an idea about some of the costs your insurance may need to cover. For example, if you meet with an accident and aren't able to work again, your TPD insurance may need to cover nursing care or modifications to your car and home.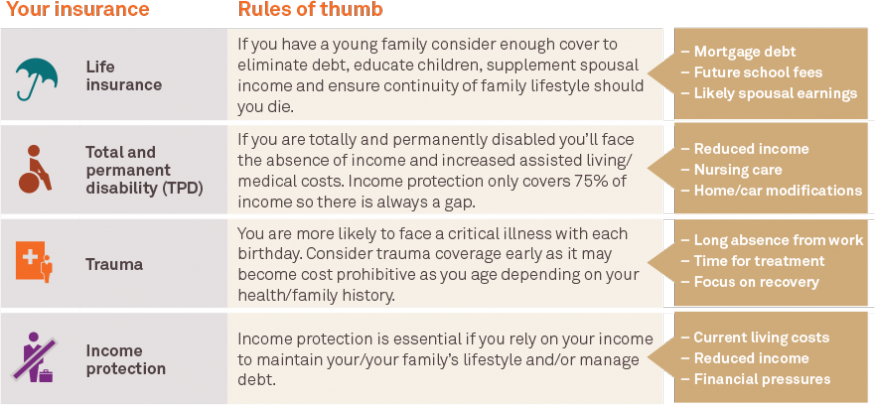 When you start to look closely, you soon realise there is no quick and easy way to compare complex and vital insurance products like Life Cover, Income Protection and Total and Permanent Disability (TPD) policies.
Choose care over convenience when it comes to insuring your lifestyle
The process of evaluating insurance options and getting them into place could easily take a few days, given the complexity of the market. But it's so important to dig deep and find the right solution for you and your family.
If you're unable to spare the time, outsource the job to an expert and enjoy the exhale that comes from having this important part of your financial picture sorted.
This 1 hour session will give you a deeper understanding of your finances and insurance needs. There's no charge for this meeting because we want to make sure we're right for you and you're right for us.
---
General advice disclaimer: This article has been prepared by FMD Financial and is intended to be a general overview of the subject matter. The information in this article is not intended to be comprehensive and should not be relied upon as such. In preparing this article we have not taken into account the individual objectives or circumstances of any person. Legal, financial and other professional advice should be sought prior to applying the information contained on this article to particular circumstances. FMD Financial, its officers and employees will not be liable for any loss or damage sustained by any person acting in reliance on the information contained on this article. FMD Group Pty Ltd ABN 99 103 115 591 trading as FMD Financial is a Corporate Authorised Representative of FMD Advisory Services Pty Ltd AFSL 232977. The FMD advisers are Authorised Representatives of FMD Advisory Services Pty Ltd AFSL 232977.