FMD joins the fight to support people affected by cancer
Over the last few years the FMD team has donated thousands of dollars and countless volunteer hours to fundraising activities for worthy causes, and we're grateful for the continuing support we receive from our clients to help us reach these goals. But like so many, we wanted to do more. So, in 2018 the FMD Board decided to allocate a small portion of gross annual profit to charitable giving to enable us to make a more meaningful contribution to the health and happiness of our community. Over time, we've been proud to support a number of organisations battling terrible diseases, including Fight MND and MS Cycle.
The charity we are currently supporting is the Pancare Foundation.
Our partnership with Pancare
The Pancare Foundation is Australia's only charity fighting pancreatic, liver, biliary, oesophageal and stomach cancers. The aim? To increase survival rates and provide support to people affected. FMD's major contribution has been a commitment to support Pancare's development of a Specialist Nurse Service to provide patients and carers with face-to-face nursing assistance.
Tami McMahon, Director of Fundraising and Development for the Pancare Foundation, recently joined FMD for morning tea where she spoke about the development of the Specialist Nurse Service and its impact on the lives of patients and carers.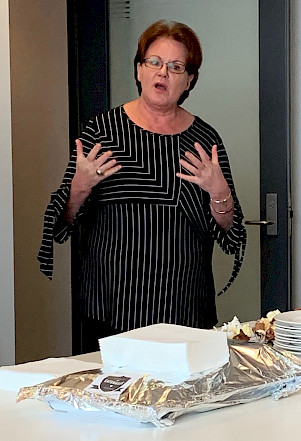 Tami McMahon, Director of Fundraising and Development for the Pancare Foundation addressing FMD staff
The FMD team orignially became aware of this great cause when the partner of one of our own was struck by the devastating impact of pancreatic cancer. Over the past 12 months, we've been on a mission and have supported the Pancare Foundation by:
Volunteering at Fibre, a clothing store in Abbotsford, Melbourne that sells Pancare Ambassador and former Bachelorette, Georgia Love's, clothes as a fundraiser.
Helping to set up the Pancare Field of Sports fundraiser at the MCG.
Organising a Pitch to the Pin competition at the annual FMD Golf Day where guests donated to have the chance to pitch to get nearest the pin.
Thanks to all our clients who participated in our fundraising efforts or donated to the cause.
---
To find out more about the lives touched by pancreatic cancer visit www.pancare.org.au
---
General advice disclaimer: This article has been prepared by FMD Financial and is intended to be a general overview of the subject matter. The information in this article is not intended to be comprehensive and should not be relied upon as such. In preparing this article we have not taken into account the individual objectives or circumstances of any person. Legal, financial and other professional advice should be sought prior to applying the information contained on this article to particular circumstances. FMD Financial, its officers and employees will not be liable for any loss or damage sustained by any person acting in reliance on the information contained on this article. FMD Group Pty Ltd ABN 99 103 115 591 trading as FMD Financial is a Corporate Authorised Representative of FMD Advisory Services Pty Ltd AFSL 232977. The FMD advisers are Authorised Representatives of FMD Advisory Services Pty Ltd AFSL 232977.