Top retirement destinations in Australia and overseas, revealed
What do you imagine when you think about your retirement? Do you picture yourself in a relaxing seaside town on the Sunshine Coast? Or maybe you're drawn to the food and wine meccas of Mornington Peninsula or the Adelaide Hills?
Perhaps you have always dreamt of retiring overseas, returning to a favourite holiday destination, but now you have the time and money to enjoy it. You're not alone. While most of us retire closer to home to be near family, friends and our local community, a growing number are making the move overseas. From South-east Asia to Europe, the benefits include stretching your Aussie dollar further, experiencing a different way of life and making friends in both local and expat communities.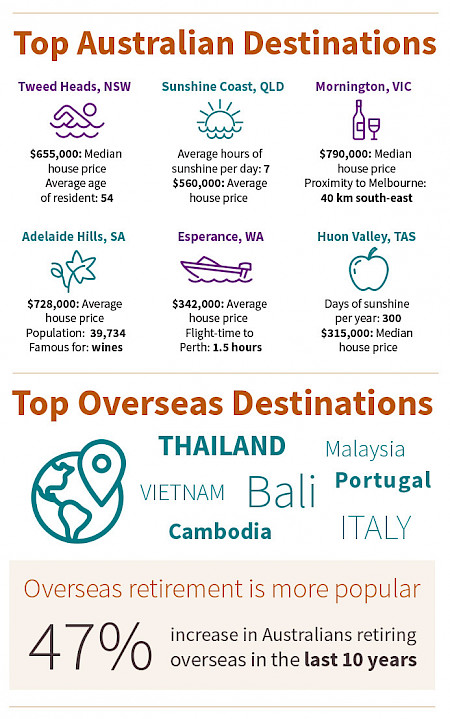 What matters when choosing a retirement destination
There are many financial and non-financial considerations that come into play while making the decision to relocate. It's particularly important to consider the complex rules around Age Pension payments. While you can normally keep receiving the Age Pension while outside Australia, payments are impacted by how long you're away, changes to income and assets, and whether your pension is through a social security agreement with another country.
Here are some things to consider while planning your sea change:
cost of living
family and friends
health facilities
local amenities
access to Age Pension
social opportunities
proximity to capital city
weather
Whether you choose to move overseas or interstate, or just downsize close to home, take the time to discuss your options with your FMD adviser. Understanding the systems and processes around your big move can make this a financially and emotionally smooth journey.
Sources: www.canstar.com.au/account-based-pensions/10-retirement-havens-in-australia/; ABS, Overseas arrivals and departures; Australia's best spots to retire, Herald Sun
---
Have questions about retirement planning?
---
General advice disclaimer: This article has been prepared by FMD Financial and is intended to be a general overview of the subject matter. The information in this article is not intended to be comprehensive and should not be relied upon as such. In preparing this article we have not taken into account the individual objectives or circumstances of any person. Legal, financial and other professional advice should be sought prior to applying the information contained on this article to particular circumstances. FMD Financial, its officers and employees will not be liable for any loss or damage sustained by any person acting in reliance on the information contained on this article. FMD Group Pty Ltd ABN 99 103 115 591 trading as FMD Financial is a Corporate Authorised Representative of FMD Advisory Services Pty Ltd AFSL 232977. The FMD advisers are Authorised Representatives of FMD Advisory Services Pty Ltd AFSL 232977.