The role of active investment management in the new normal

So much is unclear as we attempt to return to a new normal in Australia and around the world.
Will we succeed in avoiding a second wave of the virus? How many businesses will return to full operations? Can we repair or replace global supply chains? What about the fate of some of the hardest hit sectors like retail, hospitality and tourism? Will people be willing to head out and participate in economic-producing activities even once restrictions are lifted?
Right now, there are more questions than answers, but there is no doubt the recovery will be different for every sector in both timing and substance to get back to normal. Some industries will change structurally forever and look very different in a post-COVID world.
After the initial massive fall in share prices at the onset of the pandemic, global markets have been recovering losses in the wake of decisive government action and huge economic stimulus. While it's tempting to feel optimistic about these market rallies, it is prudent to adopt a wait-and-watch approach with so many unknowns yet to play out.
Making sound investment decisions in a volatile market
In late 2019, the FMD Investment Committee (IC) made some changes to our portfolios to protect our clients' wealth against downside risk. We didn't foresee a global health crisis, but we did anticipate a market correction in the face of overheated prices, fuelled by historically low global interest rates.
Some of the defensive strategies we had put into place were:
taking profits from equity exposure
introducing longer-dated government bonds
increasing exposure to gold and alternative assets
This meant our Active Management Service (AMS) portfolios were well positioned when markets started reacting to the emergence of the global pandemic in February 2020. As a result, they performed comparatively well against benchmarks and the ASX in the initial period of volatility.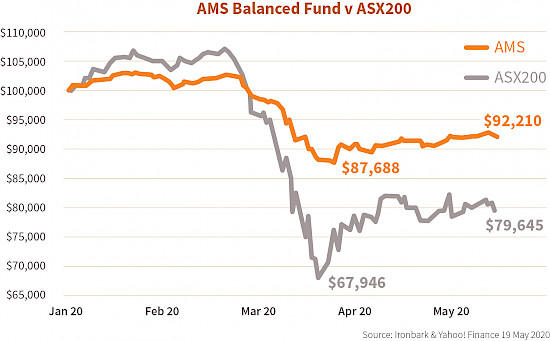 The value of active investment management in a post-Covid world
As experienced investment advisers who have managed our clients' wealth for over 16 years, through the GFC and beyond, we know well-managed and diversified investment portfolios provide protection in a crisis. To ensure this, the IC has been focussed on active investment management for our clients.
We've reviewed all our fund managers, carefully assessing their performance throughout the downturn, analysing their asset allocation with our external research consultants and ensuring our AMS portfolios are well-positioned for the future.
Watch this video to know more about how we've been effectively managing portfolios over the last few months.
Here's how our clients benefit from our proactive approach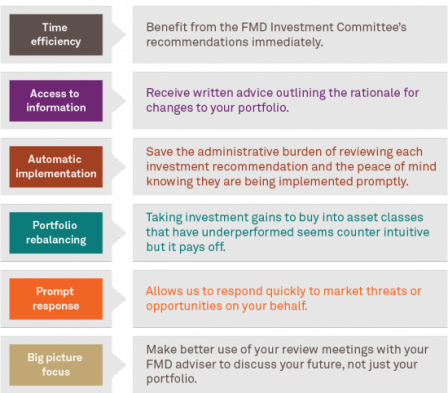 Debate continues to rage among economists about whether the market recovery will be V-shaped, deep market falls that are quick to rise again; U-shaped, where we spend more time on the bottom before gradually climbing back up; or even W-shaped, where markets bounce up and down before making a sustained recovery.
Whatever the shape of the recovery and however long it takes, active management will be key to maximising investment portfolios as businesses of all shapes and sizes find their new normal in a new-look global economy.
---
Have questions about investments?
---
General advice disclaimer: This article has been prepared by FMD Financial and is intended to be a general overview of the subject matter. The information in this article is not intended to be comprehensive and should not be relied upon as such. In preparing this article we have not taken into account the individual objectives or circumstances of any person. Legal, financial and other professional advice should be sought prior to applying the information contained on this article to particular circumstances. FMD Financial, its officers and employees will not be liable for any loss or damage sustained by any person acting in reliance on the information contained on this article. FMD Group Pty Ltd ABN 99 103 115 591 trading as FMD Financial is a Corporate Authorised Representative of FMD Advisory Services Pty Ltd AFSL 232977. The FMD advisers are Authorised Representatives of FMD Advisory Services Pty Ltd AFSL 232977.