The changing role of Australian grandparents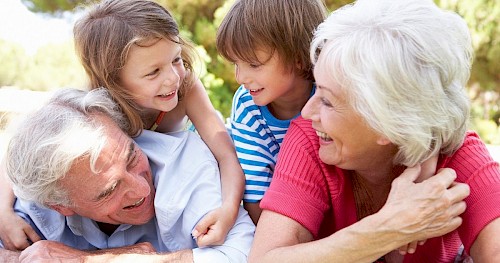 The generation of free thinkers who changed the world are now busy transforming retirement into the very antithesis of a slowing lifestyle. For Australia's 5.3 million Boomers, the role of grandparent is also dramatically different to the one they grew up with. So, what's changed?
In evolutionary terms, our lives have become better and faster. We are healthier, wealthier, more efficient and better connected professionally and socially. However this improvement in our standard of living has come at the expense of job security and a clearly defined retirement age, placing greater demands on our time and money as we strive to fulfil and fund longer lives. The current generation of over 60's have responded by putting their parents' definition of retirement out to pasture in favour of purposeful work, exploration and new experiences.
New Role for Grandparents
The role of grandparent has also been reinvented for the new millennium. Older Australians still enjoy spending time with the grandkids – a practice invaluable for health and wellbeing as the risk of poor ageing outcomes is known to rise in the absence of strong family ties – but we are spending that time in a different context thanks to the dramatic social and economic change that has shaped Australian families over 30 years.
Remember what your household looked like when your kids were growing up? Now compare it to those of your adult children – what a difference a generation makes. Australian families are smaller than ever before, with the average household size falling from 3.5 people in 1966 to 2.6 people in 20161. Couples are also starting a family later in life, once their career is established. Commonly, both parents continue to juggle parenting and significant work hours. As a result, in 2017, 22.7% of Aussie children - more than one million kids - are cared for by their grandparents on a weekly basis2. The biggest challenge for parents is securing a spot in the grandparent's busy calendar that may see them competing with an enviable social life, an adventure holiday or plans to kick-start a new enterprise.
Mobile Parents
As family separation and repartnering becomes more common, grandparents may also be welcoming a new generation of step grandchildren to the family. The end of a job for life – or even a decade – means parents are increasingly mobile in a now-global workforce that may take them far away from home in search of the best career opportunities. For many grandparents this makes contact time with both children and grandchildren increasingly precious.
Despite common gripes about the pace of technological change, this is one area where technology is playing a positive role. It's easy to forget two short decades ago most of us didn't have email, Skype or mobile phones to help us keep in touch with family members interstate or halfway around the world. Instead we used to rush through quick phone calls that were expensive (remember the STD bips?) and unreliable. Not only are today's grandparents more youthful and adventurous than their parents were at the same age, but they are increasingly tech-savvy. Research shows Baby Boomers' taste for technology is almost surpassing that of their 'digital native' grandkids, cohorts of Generation Y and Z. Over 40% of older Australians now own a smart phone and 19% own a tablet.
Digital Legacy
While we may not always be able to decipher our grandkids' text messages (*ROTFL, anyone?) it does give us more in common with them and most importantly, better ways to keep in touch. Today's grandparents are also using technology to carry out their traditional role as keepers of family history, using cloud based services to preserve their growing digital legacy including priceless photos and emails celebrating family milestones.
Improved communication between the generations has not only led to better social acknowledgement, but more community engagement about positive ageing overall. Resources and initiatives for the over 50s are expanding rapidly, with the establishment of a Council for the Aging in every state, annual Seniors Week, The National Seniors Association, International Day of Older Persons and the introduction of new non-profit organisations like Find A Grandparent, which aims to assist children whose circumstances would otherwise exclude them experiencing the joy of a grandparent- grandchild relationship. All that is left to ponder is what kind of grandparents our kids will become in the decades ahead?
*Rolling On The Floor Laughing.
---
1. ABS 2011 & 2016 Censuses – Time series Profile (Census No. 2003.0)
2. ABS Childhood Education and Care, Australia, June 2017
---
General advice disclaimer: This article has been prepared by FMD Financial and is intended to be a general overview of the subject matter. The information in this article is not intended to be comprehensive and should not be relied upon as such. In preparing this article we have not taken into account the individual objectives or circumstances of any person. Legal, financial and other professional advice should be sought prior to applying the information contained on this article to particular circumstances. FMD Financial, its officers and employees will not be liable for any loss or damage sustained by any person acting in reliance on the information contained on this article. FMD Group Pty Ltd ABN 99 103 115 591 trading as FMD Financial is a Corporate Authorised Representative of FMD Advisory Services Pty Ltd AFSL 232977. The FMD advisers are Authorised Representatives of FMD Advisory Services Pty Ltd AFSL 232977.