Life after work - Be Inspired by Charity Founders Fiona & Philip Beggs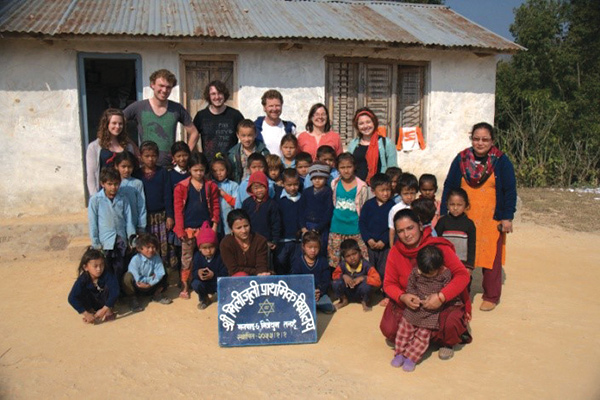 In late 2014, Philip and Fiona Beggs found themselves at a cross-roads. After long and fulfilling teaching careers and in their late 50s, Philip was considering applying for the role of Principal at the primary school where he worked. It would have meant another five-year work commitment, so instead the couple decided to retire and turn their attention to other interests. They wanted to spend more time with their aging parents, teach voluntary English classes to assist asylum seekers and pursue Philip's passion for writing and preforming folk music.
Fiona's sister recommended they visit Michael Russell at FMD to get some advice on making the most of their superannuation to fund their plans. Soon after this meeting and inspired by the experiences of their 21 year-old daughter who had been caught up in Nepal's major earthquake in 2015, the Beggs' and a group of 12 volunteers visited Nepal to help rebuild a classroom in the poor village of Phulkharka. Disaster struck on the first day when there was an accident on the site. The concrete roof of a classroom collapsed, trapping several people. The injured were evacuated by helicopter to Kathmandu and while they eventually recovered, the project was put on hold while an investigation took place. In July 2016 the site was cleared in preparation for a completely new earthquake-resistant building. Three new classrooms are near completion and eighteen months later, Philip and Fiona feel the timing of their retirement was perfect.
How to get involved?
Philip and Fiona have set up an informal group of supporters called "Friends of Phulkharka". They are continuing to fundraise for the village of Phulkharka in the hope that they can provide some financial support for ongoing rebuilding. They are organising to take a group of volunteers to visit Phulkharka in 2017 to carry out some projects which may include building, landscaping, agricultural projects, educational support and medical assistance. For more info or to donate, email Fiona: fionab@aanet.com.au
Our online profiler can help you understand if you are on track for a future that is frugal, comfortable or no compromises. From salary sacrificing to investing within your superannuation, there are many ways to get more money behind you earlier. If you're ready to get started contact us for a free 1 hour consultation to review your personal situation.
---
General advice disclaimer: This article has been prepared by FMD Financial and is intended to be a general overview of the subject matter. The information in this article is not intended to be comprehensive and should not be relied upon as such. In preparing this article we have not taken into account the individual objectives or circumstances of any person. Legal, financial and other professional advice should be sought prior to applying the information contained on this article to particular circumstances. FMD Financial, its officers and employees will not be liable for any loss or damage sustained by any person acting in reliance on the information contained on this article. FMD Group Pty Ltd ABN 99 103 115 591 trading as FMD Financial is a Corporate Authorised Representative of FMD Advisory Services Pty Ltd AFSL 232977. The FMD advisers are Authorised Representatives of FMD Advisory Services Pty Ltd AFSL 232977.