Facing COVID career change after 50? Financial advice can help.

Career transition, both planned and unexpected was already a fact of life for professionals in many different sectors before the Coronavirus pandemic arrived and changed the career outlook for thousands of Australians overnight. The normal machinations of global business; merger and acquisition, consolidation, liquidation and automation resulted in over 270,000* redundancies in Australia in 2019 alone.
Whatever shape the post-pandemic economy takes, there is no doubt many high-performing and financially successful people will face career change on their way to a new prosperity.
Redundancy is a deeply personal and unsettling experience
We've supported many professionals through the financial planning impacts of late-career redundancy who have gone on to become satisfied clients, achieving their long-term goals despite the unexpected detour.
While latest ABS figures show career transition is more common than ever (redundancies have increased 45% since 2017) every client we work with will tell you it is a deeply personal and unsettling experience, that brings both challenges and opportunities unique to their particular circumstances and goals.
For those facing career change during the COVID-19 crisis it's even more challenging as so many things are uncertain. At this stage, many companies have stood employees down while retaining them through the Government's JobKeeper program. Others have proceeded with redundancies and more are likely as the economic recovery begins and companies in vulnerable sectors like tourism, hospitality and building and construction, restructure to meet new market realities. Senior professionals are often hardest hit as employers streamline management to reduce costs, targeting roles with the highest salaries for maximum impact.
Redundancy prompts bigger financial planning questions for professionals over 50
Even welcome career change in mid-life comes with moments of self-doubt, fear and revaluation; however, for those aged over 50 but still some way from retirement, the challenges can be unexpected and overwhelming.
The senior executives I've met have worked hard for their success and have made sacrifices to achieve financial security. At this stage of life, they are typically consolidating their investments after decades of climbing the career ladder, paying mortgages and private school fees. They may have had a clear plan for the future, then suddenly the rug is pulled out from under them by redundancy and they can feel like they are running out of time to achieve their financial goals.
Taking stock and securing your financial future – is early retirement a possibility?
For younger professionals the post-redundancy focus may be on protecting their savings and trying to secure their desired income in their next permanent career move, but the late-career transitioner must take stock of the much wider picture.
Clients I work with at this stage often begin to re-evaluate their overall retirement plans and think about transitioning to a portfolio career – like taking up non-executive board position, pursuing philanthropic goals or even going out on their own to consult.
Some realise early retirement is possible after we work with them to model a range of scenarios. They then have to consider how to phase into retirement and how to optimise their asset and investment mix, which can also give rise to complex estate planning questions, such as providing for children, blended families or elderly parents.
In these situations, good financial advice makes all the difference, providing peace of mind and a roadmap for funding their chosen lifestyle now and into the future.
Interview with Peter George, Managing Director - Prima Careers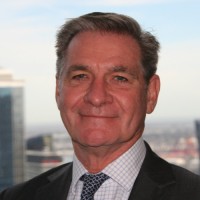 FMD partner and career transition expert, Peter George, is already seeing significant disruption as a result of COVID-19 but says the impact varies even within the same sector.
"The retail sector is good example," says Peter. "Target recently announced the closure of 75 stores and every day more retailers are looking at an uncertain future. Yet, retailers meeting our everyday needs are booming - Bunnings, Ikea, the supermarkets and Dan Murphy. That does allow for some redeployment between retail brands and one of the good news stories of the crisis, is the industry working together more cooperatively to retain that experience and talent."
The reality is a variety of businesses across many sectors are thinking about the long road back. They are starting to restructure and consider business transformation before government stimulus packages end. They are thinking about how to reduce head office overheads and their wages bill, so we are likely to see more redundancies.
Peter's consultancy, PRIMA Careers supports professionals going through career transition to recalibrate for the next phase of their life. While people tend to get more nervous about career change as they age, Peter believes fears about career change in your 50s are sometimes overblown in the media. "Most of the highly skilled, experienced white-collar professionals who go through our program do find new opportunities. They may have to consider new work models, but there are good opportunities out there" says Peter.
These are Peter's top tips for those facing career change in their 50s:
1. Focus on transferable skills
There will be winners and losers in the post COVID-19 economy, so focus on transferable skills you can take to a growth sector. A role like facilities management is a good example. If you've been a facilities manager for a retailer you'll be experienced in hiring and managing people, compliance, procurement and project management. Those same skills will transfer well to a similar role in health or aged cared, which will continue to be growth sectors.
2. Consider new ways of working
If you've worked your way up the career ladder, you may have expectations about where you should be now. If you have an open mind there will more opportunities, particularly around contracting or consulting. Companies looking to cut staffing costs will often reduce roles in corporate services areas like HR, remuneration, marketing, IT and project management. Yet, work still needs to be done in these areas, so there can be lucrative contracts available.
3. Value your wisdom and experience
People in their 40's and 50's do have a clear advantage over those in their 20's and 30's - wisdom and experience. As our population ages this becomes more important to a range of employers. No-one wants to take advice about serious financial or legal issues from someone straight out of Uni, for example. Even retailers like Bunnings have realised the power of older frontline staff and others are catching on. The key is to keep your technical and communications skills current while talking up the value of your experience.
4. Review your goals
One of the advantages of facing unintended career change in your fifties is you are likely to have more behind you financially and less intensive parenting ahead of you – and the costs that go with it. So it's a chance to take a really good look at what your drivers are going to be in the future. There could be an opportunity to work at a different pace and pursue other goals, for example. I have a client who transitioned from a senior corporate role who now works in the pro-shop of a golf club, where he gets to talk about and play golf all day, which is one of his passions.
It's not for everyone, but it is the time to ask: What can I afford financially and what do I really need to be happy? Going through the goal-based financial planning process with FMD can help clarify this. We've referred clients who now feel great peace-of-mind after developing a plan for their financial future.
Geoff and Fiona Freeman

I turned to Richard Dahl for advice about managing a small portfolio of shares when I was just 21 and working at Mitsubishi. When I got my first well-paid job at 23, I used his advice again to get serious about building my superannuation. My goal then was to retire at 50. I'm now 55 and semi-retired, set to retire fully next year. Richard's advice has seen us through everything from paying off the house, to the kids' education and making the most of a redundancy package. Our relationship with Richard has also helped cement our financial goals as a couple. The annual review meeting has kept us on track and it's been great to see our savings and investment projections turn into reality over the years. After all the hard work and raising two independent daughters, we've gone full-circle and now it's time for us again.

Cliff Wright

I first met David Batchelor when I took a voluntary redundancy five years ago. David helped me move from a defined benefit scheme into a super accumulation fund and plot a path to early retirement. It was refreshing to meet a professional and knowledgeable adviser who was more interested in my needs than their own. Under David's guidance I now have more money than when I started investing with FMD Financial, even though I'm drawing a comfortable monthly income stream. Life is short and I'm enjoying the retirement lifestyle I want with the confidence my money will last for the long haul. I've met other FMD clients at their regular events and no-one has a bad word to say about them. I'd certainly recommend David and the team to anyone facing redundancy and looking for expert financial advice.
Things to consider to maximise health, wealth and happiness during career transition
Whether your role has been made redundant or you're contemplating a career move, if you are asking yourself any of these questions, you could benefit from professional financial advice:
What is the best way of managing or investing my redundancy payment to improve my financial position?
e.g. Reduce debt, minimise tax, invest
Do I have enough personal insurance and is it still current?
Is it time to review my superannuation for optimal returns?
Do I understand the financial implications of any career decision I may be considering?
What is my overall financial position and what are my personal and financial goals?
Will I achieve a comfortable retirement?
How do I build wealth and find someone to help me achieve this?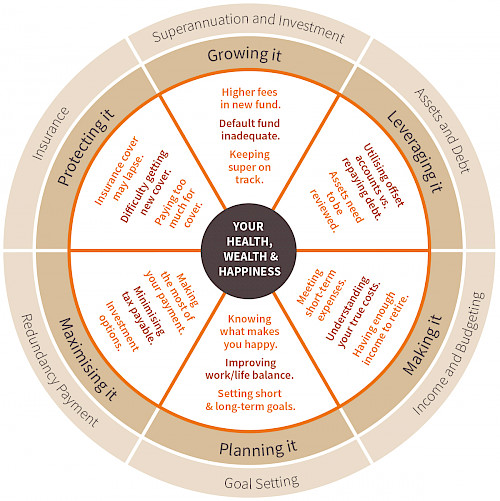 Taking the next step
If the issues raised in this article resonate with you, or you know someone who could benefit from sound financial advice after late-career redundancy, please contact your FMD adviser or, if you're new to FMD, make an appointment to come in and see an adviser for a confidential chat.
*Source: ABS as reported by ABC News: https://www.abc.net.au/news/2019-10-17/the-price-of-rising-job-insecurity/11608870
---
Have questions about redundancy'?
---
General advice disclaimer: This article has been prepared by FMD Financial and is intended to be a general overview of the subject matter. The information in this article is not intended to be comprehensive and should not be relied upon as such. In preparing this article we have not taken into account the individual objectives or circumstances of any person. Legal, financial and other professional advice should be sought prior to applying the information contained on this article to particular circumstances. FMD Financial, its officers and employees will not be liable for any loss or damage sustained by any person acting in reliance on the information contained on this article. FMD Group Pty Ltd ABN 99 103 115 591 trading as FMD Financial is a Corporate Authorised Representative of FMD Advisory Services Pty Ltd AFSL 232977. The FMD advisers are Authorised Representatives of FMD Advisory Services Pty Ltd AFSL 232977.