People who experience good financial advice rate it highly, so what's holding everyone else back?


Latest ASIC research adds to the growing body of evidence around the high value of financial advice. *Over 80% agreed that planning their financial future made them feel secure and they intended to get financial advice again in the future.
So, if people who experience good financial advice rate it so highly, what's holding everyone else back? In our experience, it's usually at least one of these six beliefs:
1. I've always managed my own money and I've done alright
Most successful people typically reach a point where financial management becomes too complex or time consuming and the consequences of financial mistakes too far-reaching to risk. At this stage, a professional adviser will use their expertise to help you maximise and protect your wealth. If you get good advice in your peak earning years (typically 45-55 for many professionals) you'll benefit from long-term investment strategies and the power of compounding as you age.
2. I don't know how much financial advice will cost
At FMD, we're committed to being transparent about our fees so more people can experience the confidence that comes from good advice. Once you meet an adviser and start achieving your goals, the value of advice soon becomes clear. Clients who've been with FMD for 10+ years tell us the long-term returns, confidence and peace of mind that comes from having professional support to manage thier money is well worth their investment in our advice.
3. I don't think my financial situation is complex enough to need expert help
Complex finances are one reason to seek advice, but wanting to achieve financial freedom and security is the most important reason. High income earners have a great opportunity to secure their future but lifestyle costs often grow alongside their earning power making it harder to achieve their goals. If you're ready to build true wealth, your FMD adviser will help you set goals, hold you accountable and guide your investments; so you can focus on what you do best.
4. I don't know how to find an adviser I can trust
The title 'financial adviser' is often misunderstood, partly because it is used to describe advisers that work for or are affiliated with banks or super funds. FMD is not owned by or affiliated with another financial institution and we charge a fee for service based on our clients' individual needs. When choosing an adviser look for someone who is CFP® qualified, experienced and happy to offer client references. It's also important to choose someone you like and feel comfortable talking to, because over time they will become an important support during life's biggest challenges such as redundancy, divorce or the death of a loved one. 
5. I don't have the time to meet with an adviser
Perhaps you're an expert in your field, or perhaps you receive expert advice from your doctor, personal trainer or mechanic. So you know the importance of sitting down face-to-face for solutions that are unique to your circumstances. We don't give advice over the phone to new clients because we have a duty of care to consider your overall situation. That's best done in an initial consultation at our offices in Melbourne, Brisbane or Adelaide. There is no charge or obligation from the first meeting but you'll leave knowing exactly how we can help you.
6. I don't know how financial advice works
This video explains what you can expect from your first meeting with one of our advisers. Feel free to ask all the questions you've wanted to ask a financial adviser at this meeting. Not only will you gain an understanding of the process, you and the adviser will have a chance to gauge if you're a good fit for each other.
---
With so many people facing the need to plan for retirement (or at least the next phase of life beyond their fulltime career!) we're optimistic that our proven performance over 18 years and our open and transparent approach will give more people the confidence to seek financial advice and start experiencing the benefits.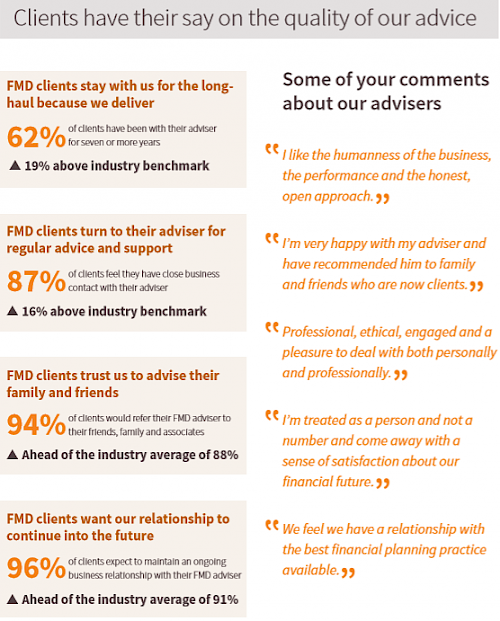 Source:
*August 2019 ASIC Report – Financial advice: What consumers really think
**2019 Client Satisfaction Survey conducted by independent research partner, Business Health
---
If you know someone who could benefit from advice
---
General advice disclaimer: This article has been prepared by FMD Financial and is intended to be a general overview of the subject matter. The information in this article is not intended to be comprehensive and should not be relied upon as such. In preparing this article we have not taken into account the individual objectives or circumstances of any person. Legal, financial and other professional advice should be sought prior to applying the information contained on this article to particular circumstances. FMD Financial, its officers and employees will not be liable for any loss or damage sustained by any person acting in reliance on the information contained on this article. FMD Group Pty Ltd ABN 99 103 115 591 trading as FMD Financial is a Corporate Authorised Representative of FMD Advisory Services Pty Ltd AFSL 232977. The FMD advisers are Authorised Representatives of FMD Advisory Services Pty Ltd AFSL 232977.