Online vs. Retail Insurance: why buying online is not always the best policy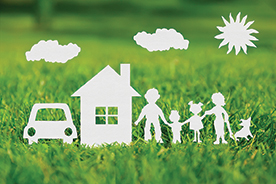 Over 40% of life insurance in Australia will be purchased online by 2021. The advertising is fierce and the market competitive but can you buy life insurance like you would clothes, shoes or holidays?
FMD adviser and insurance expert, Nick Stanley says, "Digital adoption and technology advances will continue to present opportunities for managing our finances, however there is no benefit when buying insurance and it's misleading to present insurance planning as cheap and easy".
Nick's top five reasons why buying life insurance online may not be in your best interest:
1. Pre-existing condition exclusions apply to most online contracts
A lack of upfront underwriting for online products leads to a proportion of declined claims. However, with a retail policy through an adviser you'll know exactly what you're covered for because you'll be underwritten.
2. Higher cost
Research by Rice Warner indicates premium rates for online insurance are often higher than retail.
3. Difficult to get appropriate cover level
You can't always get appropriate levels of cover with direct insurance products.
4. Vague policy features
The features and benefits can be far more comprehensive with retail contracts as are the ownership structures available.
5. No one to assist you with a claim
With an online policy there's no one on your side at claim time. With a retail policy through an adviser you'll have professionals to help complete your claim forms and ensure you receive all of your entitlements.
The Bottom Line
Going online often costs more and results in a policy that has lower monetary limits on cover levels as well as extensive, meaningful exclusions. Tighter contract definitions on direct contracts can also make it much harder to achieve a successful claim.
Qualified financial advisers have the skills and experience to offer advice on policies, ownership structures, tax and insurance strategies that are tailored to your personal situation. For insurance advice please contact us or book a free financial health check today.
---
General advice disclaimer: This article has been prepared by FMD Financial and is intended to be a general overview of the subject matter. The information in this article is not intended to be comprehensive and should not be relied upon as such. In preparing this article we have not taken into account the individual objectives or circumstances of any person. Legal, financial and other professional advice should be sought prior to applying the information contained on this article to particular circumstances. FMD Financial, its officers and employees will not be liable for any loss or damage sustained by any person acting in reliance on the information contained on this article. FMD Group Pty Ltd ABN 99 103 115 591 trading as FMD Financial is a Corporate Authorised Representative of FMD Advisory Services Pty Ltd AFSL 232977. The FMD advisers are Authorised Representatives of FMD Advisory Services Pty Ltd AFSL 232977.