Mobile phone text scams exploding
Most of us have relied on doing so much more online, including online shopping, during lengthy COVID-19 restrictions. At the same time, many people have also experienced first-hand the rise in mobile phone scams.
Scamwatch, the dedicated scam monitoring service run by the Australian Competition and Consumer Commission (ACCC), is urging people to be extra vigilant about scams after Australians reported a record $211 million in losses to scams so far this year. This represents an incredible 89% increase compared to the same period last year. Here are some of the key scams to look out for:
Retail purchase scams
Scammers posing as reputable online retailers such Amazon and e-Bay are bombarding mobile phones with text messages about deliveries or purchases. When people respond to the link to complain that they haven't made those purchases, the scammers apologise and offer to provide a refund. Under the guise of processing the refund, they gain remote access to your computer and steal credit card information and other personal details.
This particular scam is a new type of Phishing scam, but scammers may also pretend to call or text from your bank, healthcare provider, super fund or a Government agency.
Flubot scams – Alarming or everyday text messages
Missed delivery texts, calls or voicemail (known as Flubot scams) are also on the rise. Typically, a text message asks you to tap on a link to download an app to track or organise a time for a delivery, hear a voicemail message, or view personal photos that have been uploaded to a public place. However, the message is fake, there is no delivery, voicemail, or photos uploaded and the app is actually malicious software called Flubot.
Below is an example of a Flubot message, but there are many variations, with the common technique being a message that alarms people enough to get them to click on the link before thinking it through. A particularly alarming text message or voicemail related to a personal matter such as COVID-19 test results or exposure, tax, superannuation, banking, legal proceedings or personal photos, is a red flag that a scammer may be at work.
Here is an example of an alarming scam message: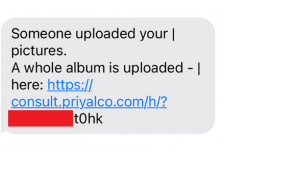 Conversely, since September 2021, as word has spread about avoiding alarming messages, scammers have adapted by mimicking everyday messages people are used to receiving from real service providers, to lure them to click on Flubot links. These message are often related to parcel delivery as many of us have received more parcels during lockdown and are used to getting genuine text notifications from Australia Post and courier services. They often contain a website link followed by 5-9 random letters and numbers.
Here are some examples of an everyday scam messages: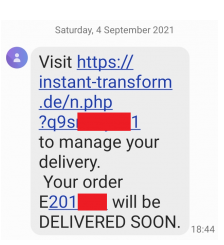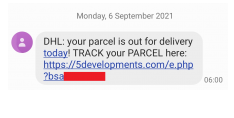 What to do if you receive one of these messages?
If you suspect you have received a retail purchase scam or flubot message, delete it immediately without clicking on the link.


If you do click on the link before realising it may be a scam, do not take any further steps and close the web page you are taken to. Typically this web page will claim your device is already infected with Flubot and tells
you that you need to install a security update to remove it. This is a clever trick by scammers; your phone is not infected, but installing the security update will infect your phone as it downloads the Flubot malware.


Spread the word among family and friends and report the scam to Scamwatch at via their dedicated 'Report a scam' page - https://www.scamwatch.gov.au/report-a-scam


Take the opportunity to ensure you have good security practices, such as strong passwords and regular software updates in place across all your devices and online accounts
.
There is no doubt technology has delivered convenience and comfort during COVID-19 restrictions and enabled us to cope with the pandemic better than we might have just years ago. We've benefited from remote working, grocery deliveries, tap and pay and Zoom calls with loved ones. Unfortunately, a big increase in scams is the flip side of the coin. Our best defence against scammers remains knowledge, vigilance and strong security practices.
To find out more about the latest scam activity and how to protect yourself, visit scamwatch.com.au or idcare.org. The learning centre on the ID Care website has some great videos about how to make your devices secure, protect your phone, install antivirus software and more.
---
General advice disclaimer: This article has been prepared by FMD Financial and is intended to be a general overview of the subject matter. The information in this article is not intended to be comprehensive and should not be relied upon as such. In preparing this article we have not taken into account the individual objectives or circumstances of any person. Legal, financial and other professional advice should be sought prior to applying the information contained on this article to particular circumstances. FMD Financial, its officers and employees will not be liable for any loss or damage sustained by any person acting in reliance on the information contained on this article. FMD Group Pty Ltd ABN 99 103 115 591 trading as FMD Financial is a Corporate Authorised Representative of FMD Advisory Services Pty Ltd AFSL 232977. The FMD advisers are Authorised Representatives of FMD Advisory Services Pty Ltd AFSL 232977.