How money management has moved online during COVID-19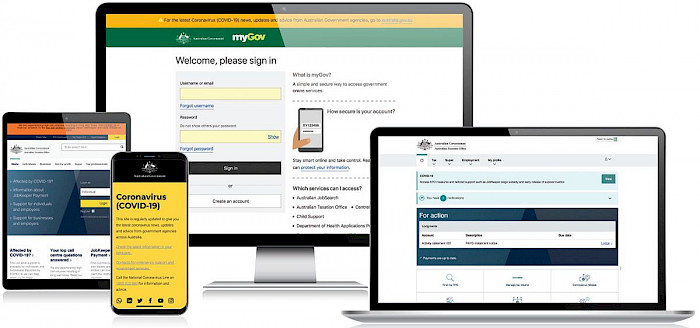 While the popularity of online banking has grown significantly in recent years, over 40 per cent of Australians still visited a branch regularly before Coronavirus restrictions came into place. Services like Centrelink payments or health insurance claims could be managed online or in person at a walk-in office. As bank branches shut for non-essential services and social distancing restrictions, everyone has had to get used to managing their money, and an increasing number of other services, online.
Before the pandemic, half a million Australians were actively using a passbook or a transaction account with no linked debit card. With consumer trends continuing towards online shopping and 'tap and go' in physical stores recommended and likely to be more widespread as public health measures to slow the spread of the virus, banks have been actively advertising and directly reaching out to those without debit or online banking facilities, to ensure people can access and spend their money on the products and services they need. With many shops currently not accepting cash, Australians have turned to 'tap and go' and online banking and administration services in huge numbers.
Demand for support from Centrelink also grew exponentially as people sought government assistance when businesses went into hibernation in the wake of the restrictions. After initial glitches in handling unprecedented levels of demand, Services Australia's myGov website has now bolstered its capacity to deal with 300,000 people seeking services at any one time – up from 55,000 at its pre-COVID peak.
At the same time, the FMD team worked closely with our investment platform providers like Asgard, HUB24 and Netwealth to ensure they could directly update client asset values with Centrelink. This enabled clients to have their Age Pension entitlements automatically reassessed where asset values are now lower due to share market and other asset price movements.
There is no doubt it has been a steep learning curve for banks, service providers and their customers, but people have overwhelmingly embraced technology to manage their money during this difficult time.
Three steps you can take now
Register with myGov (my.gov.au) which gives you to access a range of Government services, including the ATO, Centrelink, Medicare and your personal health records. It is the most effective way to update any of your personal circumstances for age pension, income or other support purposes, as contacting Centrelink via phone is difficult due to increased demand.
Contact your bank to ensure you have access to the best online and phone banking options for your needs and consider whether any of your bank's mobile banking apps could be of benefit. For example, the CBA's 'Benefits Finder' app assesses a customer's eligibility for a range of government benefits — including JobKeeper, rent assistance and utilities rebates — and then automatically guides them through the application process.
If you are venturing into online banking or shopping for the first time or using these services more regularly be careful to protect your personal information by using strong passwords and be on alert for scam approaches. Visit staysmartonline.gov.au and scamwatch.gov.au for tips on protecting yourself online.
---
Find out how online banking can impact your financial situation
---
General advice disclaimer: This article has been prepared by FMD Financial and is intended to be a general overview of the subject matter. The information in this article is not intended to be comprehensive and should not be relied upon as such. In preparing this article we have not taken into account the individual objectives or circumstances of any person. Legal, financial and other professional advice should be sought prior to applying the information contained on this article to particular circumstances. FMD Financial, its officers and employees will not be liable for any loss or damage sustained by any person acting in reliance on the information contained on this article. FMD Group Pty Ltd ABN 99 103 115 591 trading as FMD Financial is a Corporate Authorised Representative of FMD Advisory Services Pty Ltd AFSL 232977. The FMD advisers are Authorised Representatives of FMD Advisory Services Pty Ltd AFSL 232977.