Financial advice for divorce and separation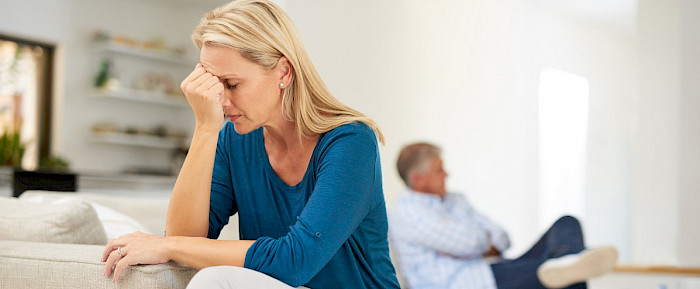 Navigating the end of a marriage or long-term relationship is one of the most stressful events we can face in life. Add the backdrop of a global pandemic and the experience gets even tougher.
The rapid growth in enquiries to specialist separation services – up 300 percent in 20201, indicates a lot of people are reassessing their relationships and a percentage of those will go through this without professional support.
The crisis is also negatively impacting those already in the process of divorce or separation. Lockdown restrictions may mean separating while having to stay under the same roof or needing to renegotiate settlement agreements due to rapidly changing asset values.
At a time when fear and uncertainty are running high, getting the right advice to minimise the negative financial impacts of a relationship breakdown is one of the most important steps you can take to protect your future.
Helping you plan your financial independence
It's important to remember that divorce is both a legal settlement and a financial settlement. A lawyer will help you fight for what you want, while a financial adviser will help you work out what you want in the first place and why.
A chat with a financial adviser can alleviate some of the stress you may be feeling about the financial aspects of separation. It's about going into a settlement discussion wide-eyed, with many of the financial considerations well understood, so you can negotiate the best possible outcomes from a position of strength.
Typically, once the terms of a settlement have been agreed, a financial adviser can then meet again to create a full plan for achieving financial independence going forward.
Who needs financial advice in the lead up to divorce or separation?
If you and or your partner are high-income earners with significant assets and/or children to consider, it is usually worthwhile getting financial advice. Often, we find one person in a relationship has more knowledge or understanding of the family's finances. Or the person who instigated the separation has already thought through the financial implications and may be a few steps ahead.
Either way, one partner is often caught by surprise without having considered what financial arrangements they need to live independently. In this situation, a timely discussion with a financial adviser can provide a framework for thinking through all the financial considerations.
With 20 years' experience advising successful people going through relationship change, here are my top five tips when it comes to seeking financial advice for divorce or separation.
1. Get objective, professional advice
It's important to have the support of family and friends when going through separation or divorce but it doesn't mean they are the best people to turn to for financial advice. A qualified financial adviser will take a dispassionate, holistic view and will give you clear strategies for achieving your own financial goals.
2. Find someone you like and trust
A tough time will be made easier by finding an approachable, empathetic adviser who has experience advising clients through divorce and separation. Ask family, friends or colleagues for a referral or review advisers online.
Ensure the adviser has appropriate qualifications, a relevant degree and is a CFP (Certified Financial Planner). Check they are registered with ASIC and a professional association like the Financial Planning Association of Australia (FPA) and are part of an FPA Professional Practice like FMD.
Any reputable adviser will be happy to have an initial chat free of charge and all subsequent fees should be clearly outlined in advance. If you already have a lawyer, your FMD adviser can work with them to make the process easier for you.
3. Understand how an adviser can help
Clients going through divorce or separation may initially approach us to help with specific financial matters like what to do with the division of assets, the family home, any debt, insurances, Wills or estate planning.
From our experience, they often tell us the support we offered in making good financial decisions and providing clarity at such a hard time was what they valued most. It's about having someone in your corner to make far-reaching decisions that can impact the rest of your life, such as:
Assessing your current financial position and future goals
Considering how to re-build your life financially
Improving your financial literacy for the future
Devising a plan to achieve your goals and modelling the outcomes
4. Prepare to discuss these key financial considerations
Dividing key assets
Do you sell the family home and split the proceeds or divide assets in another way to compensate? We can help you model the potential financial impacts of a range of options.
Protecting your income
An insurance review is often required as a result of divorce or separation. Without two incomes to rely on, you may need more income protection to cover your expenses if you're unable to work.
Lump sum insurance levels might also need to be adjusted. You may also need to change nominations on benefit payments for life insurance cover or via your superannuation fund.
Reviewing your Will or estate planning arrangements
Divorce or separation doesn't invalidate your will automatically. You will need to make changes to make your intentions clear in an updated will.
Changing your work or lifestyle plans
Without two incomes to build financial security and cover expenses, you may need to consider changes to work plans, going from part-time to full-time work or delaying retirement, for example.
Planning for the needs of children or other dependents
If you have children, planning carefully for their needs, both now and in the future, will be an important part of the financial planning process.
5. Consider the cost of not seeking professional financial advice
Going through divorce or separation can leave you mentally and emotionally depleted, so even the most intelligent and capable person can easily make a bad financial decision.
The internet is a big place, and friends and family will all have different views. Trying to work out all the financial considerations yourself may be overwhelming and it's impossible to know whether the generic or anecdotal advice you find online is current or relevant to your personal circumstances. The financial decisions you make now will impact the rest of your life and if you have children, their lives too. Frank and fearless advice from a professional with your best interests at heart will go a long way to making sure all financial matters have been carefully considered.
If you're going through divorce or separation and are considering seeking financial advice, take the time to consider how a professional can assist you on this emotional journey and please get in touch for a chat about how we might be able to help.
Source: [1] https://www.smh.com.au/national/number-of-couples-seeking-separation-advice-soars-during-lockdown-20200605-p54zzf.html
---
Take the financial stress out of your separation
---
General advice disclaimer: This article has been prepared by FMD Financial and is intended to be a general overview of the subject matter. The information in this article is not intended to be comprehensive and should not be relied upon as such. In preparing this article we have not taken into account the individual objectives or circumstances of any person. Legal, financial and other professional advice should be sought prior to applying the information contained on this article to particular circumstances. FMD Financial, its officers and employees will not be liable for any loss or damage sustained by any person acting in reliance on the information contained on this article. FMD Group Pty Ltd ABN 99 103 115 591 trading as FMD Financial is a Corporate Authorised Representative of FMD Advisory Services Pty Ltd AFSL 232977. The FMD advisers are Authorised Representatives of FMD Advisory Services Pty Ltd AFSL 232977.