Invest today to live the life you want tomorrow
High quality professional wealth management advice is something we take seriously and our clients know it sets us apart.
Building wealth sooner is the best way to live the lifestyle you've worked hard to achieve for longer. Instead of letting others determine your investments, we keep the process at the heart of our business – with the FMD Investment Committee. This committee is comprised of senior FMD advisers as well as an independent economist and investment professionals, who construct, monitor and review a range of risk aware investment portfolios for our clients.

Six reasons you'll love our proactive approach
We call this institution grade investment capability our Active Management Service (AMS). AMS saves time and costs, while maximising investment outcomes through efficient
implementation of changes across your portfolio in accordance with the recommendations of the FMD Investment Committee. You also receive timely communication about any changes to your investments and online access to your portfolio at all times.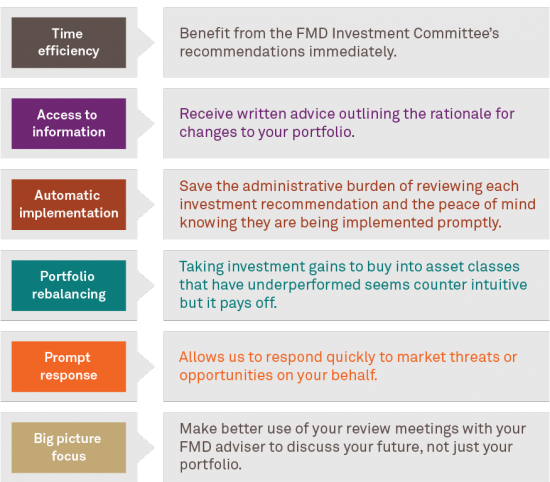 Our Investment Committee
The FMD Investment Committee (IC) meets regularly to review the investments that comprise your portfolio and to evaluate any new opportunities that become available. In reviewing your portfolio, the FMD IC utilises research from various managed fund research houses, a variety of direct share research providers and fund managers. Since 2004 the AMS portfolios have been independently monitored to ensure we understand in detail the impact of every decision on investment performance.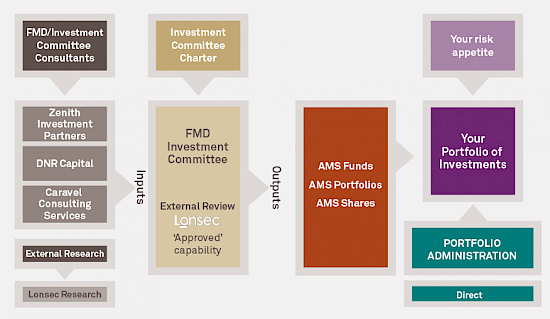 Using our Active Management Service
We are committed to delivering a responsive investment platform that delivers strong performance. Using our Active Management Service (AMS) means your portfolio is brought in line with the recommendations of the FMD Investment Committee at the time decisions are made. You can also login online to see more details about your portfolio at any time.
---
This article has been prepared by FMD Financial and is intended to be a general overview of the subject matter. The article is not intended to be comprehensive and should not be relied upon as such. In preparing the article, we have not taken into account the individual objectives or circumstances of any person. Legal, financial and other professional advice should be sought prior to applying the information contained in the article to particular circumstances. FMD Financial, its officers and employees will not be liable for any loss or damage sustained by any person acting in reliance on the information contained in this article. FMD Group Pty Ltd ACN 103 115 591 trading as FMD Financial is a Corporate Authorised Representative of Paragem Pty Ltd AFSL 297276. The FMD advisers are Authorised Representatives of Paragem Pty Ltd AFSL No.297276.