Consumer confidence surprisingly high in the pandemic economy
In our recent Investment Committee (IC) update, we discussed the threat of rising inflation driven by ongoing low interest rates and the likely impact on investor returns. If you haven't seen it, you can watch the video here.
In what has become a tale of two economies, there are clear winners and losers. The hospitality, travel, arts and personal care sectors have been some of the hardest hit by repeated lockdowns and many people, particularly small business owners and their employees, have experienced financial stress.
Yet, others in thriving sectors like technology, professional services, the auto sector and retailers that pivoted to online, are prospering. Companies in these sectors have adapted well by accelerating online offerings and jobs growth is strong.
One of the most interesting aspects of the pandemic economy is how it is changing household spending, saving and debt habits for people in this situation. Incomes are strong and lifestyle spending – think holidays, restaurant and concert tickets – is significantly reduced, creating surplus cash. Low interest rates have brought mortgage payments down, while rising house prices are contributing to confidence, which remains surprisingly high despite the upheaval and uncertainty of the last 18 months.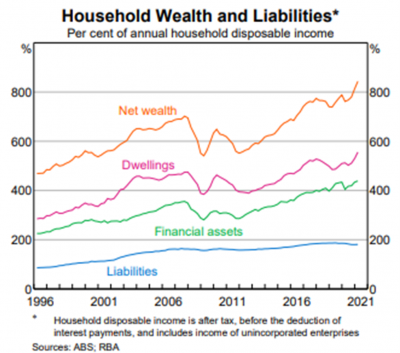 The latest consumer confidence research from ANZ-Roy Morgan confirms this sentiment , with 25% of Australians saying their families are better off now than this time last year, and 33% saying now is a good time to buy a major household item.
This trend is driving a shift in spending towards home renovations, furnishing and electronics, technology and cars, as people anticipate spending a lot of time at home and more local road-trips for holidays once vaccination levels increase and more freedom of movement is restored. Used car sales in particular, are growing exponentially, as the new car market suffers component supply shortages as a result of the pandemic.
This positive outlook from consumers working in more prosperous sectors, supports the central plank of the RBA's policy approach – that the economy is in a good position to bounce back when vaccination targets are reached and more normal life can resume.
In the meantime, the changing life circumstances the pandemic has brought about, provides an opportunity for people to reassess their financial goals and priorities.
We have received growing enquiries from people looking for an adviser to help reassess their situation and plan for the future. Our clients are already doing this as part of their review meetings, but if you have a friend, family member or colleague who could benefit from advice, we're always here to help, so please reach out to your adviser.
As we can't get together with clients as much as we'd like this year, we're also launching a series of monthly webinars to discuss the Financial Lessons and Opportunities from COVID-19.
Our first webinar, Goal-setting in times of uncertainty will take place on Tuesday 31st August at 12pm.
You can register here and family and friends are welcome to join us.
---
General advice disclaimer: This article has been prepared by FMD Financial and is intended to be a general overview of the subject matter. The information in this article is not intended to be comprehensive and should not be relied upon as such. In preparing this article we have not taken into account the individual objectives or circumstances of any person. Legal, financial and other professional advice should be sought prior to applying the information contained on this article to particular circumstances. FMD Financial, its officers and employees will not be liable for any loss or damage sustained by any person acting in reliance on the information contained on this article. FMD Group Pty Ltd ABN 99 103 115 591 trading as FMD Financial is a Corporate Authorised Representative of FMD Advisory Services Pty Ltd AFSL 232977. The FMD advisers are Authorised Representatives of FMD Advisory Services Pty Ltd AFSL 232977.