Are you betting on the property boom?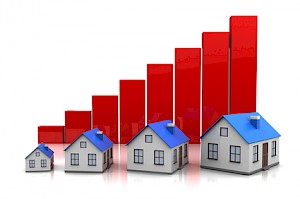 It comes as no surprise that we're paying much more for property today than any generation before us. With housing prices surging in Australia's capital cities, we're having to dig deeper into our pockets to seal our own piece of the great Australian dream.
To put this into figures, a recent article by Domain real estate compared median house prices from 1973 in some of Australia's capital cities, with Domain Group's House Price Report from September 2014.
| | | |
| --- | --- | --- |
| Capital City | 1973 | 2014 |
| Sydney | $27,400 | $843,994 |
| Melbourne | $19,800 | $615,068 |
| Brisbane | $17,500 | $473,924 |
| Adelaide | $16,250 | $459,258 |
Key factors that influence the property market
Supply vs demand
When the supply of property in Australia is unable to keep up with buyer-demand (often through limited infrastructure and a high migration rate), prices reflect the greater number of interested investors.

Stay tuned for our take on Australia's property 'bubble'.
Ongoing low interest rates
Lower interest rates – which we have seen recently- mean investors can take out a higher loan to purchase a property. This has resulted in higher borrowing levels which often equate to higher levels of household debt.
Single-dweller households
More Australians are steering away from living with housemates, increasing the quantity of properties required for a smaller amount of residents. The same applies to retirees who are living longer, and often on their own.
Growth in the average weekly wage
ABS figures show that in '73, the average weekly wage was $111.80, including full- and part-time workers, compared to a full-time average pre-tax wage of $1,453.90 today.
How many years of wages will you need to purchase a property?
Using the average weekly wage figures as a guide, in 1973 it would have taken 3.4 years of average wage to purchase median priced a property in Melbourne. Looking at today's median house price, it will take 8.1 years of average wage to purchase a property in Melbourne.
While the property prices have been in the headlines in recent times, CEO of the Real Estate Institute of Australia (REIA) Amanda Lynch said in the article that housing affordability concerns have been around for a long time.
"Although the level of affordability can vary cyclically, house-price and household-income data suggest that there has been an underlying structural affordability problem in Australia over the past half-century. From 1960 to 2006, real house prices increased at an average of 2.7 per cent per annum, ahead of a 1.9 per cent per annum growth per household real income", Lynch said.
But what if the property market doesn't sustain its trending growth?
The impact on investment portfolios
Given the property market is cyclical, investing in a single property can seem like a safe option for some, but putting all your eggs in one basket can carry a high level of risk. With the factors surrounding the volatility of the property market, current high property prices may impact short-term investment prospects.
With the rise and fall of the property market the importance of investment diversification remains a strong strategy in getting ahead. Diversifying your investments to include share market exposure can actually help reduce your portfolio's ups and downs.
To find out more about building diversification in this ever changing market
---
General advice disclaimer: This article has been prepared by FMD Financial and is intended to be a general overview of the subject matter. The information in this article is not intended to be comprehensive and should not be relied upon as such. In preparing this article we have not taken into account the individual objectives or circumstances of any person. Legal, financial and other professional advice should be sought prior to applying the information contained on this article to particular circumstances. FMD Financial, its officers and employees will not be liable for any loss or damage sustained by any person acting in reliance on the information contained on this article. FMD Group Pty Ltd ABN 99 103 115 591 trading as FMD Financial is a Corporate Authorised Representative of FMD Advisory Services Pty Ltd AFSL 232977. The FMD advisers are Authorised Representatives of FMD Advisory Services Pty Ltd AFSL 232977.