Applying the same rigour to investment property and shares
Keen property investors have been watching the phenomenal growth in the Australian property market over the last year and asking: How long can it last? In the past 12 months, Sydney property prices have risen over 22%, Melbourne by 12% and Brisbane by a remarkable 30%.
Despite the challenges and uncertainties of the pandemic we've experienced a once in a generation property boom, fuelled by low interest rates and migration to smaller capital cities and regional centres as show in the below data from Core Logic showing changes in dwelling values as at 1st March 2022.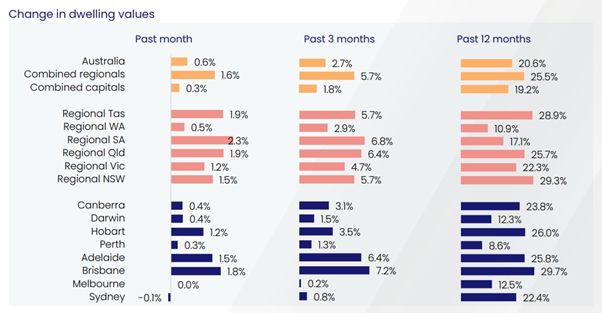 What lies ahead
Yet, as we look ahead, there are a fresh round of uncertainties to contend with. From geopolitical conflict adding to already growing inflation and cost of living pressures – and the associated prospect of rising interest rates, to a federal election, and an anticipated rise in COVID outbreaks over winter.
It is notoriously difficult to predict market outcomes amidst such a high level of uncertainty, but the general consensus among property experts is that markets will still grow, but by a slower rate and more unevenly. In these conditions, it makes sense to apply the same rigour to housing assets as you would to other investments.
How we can help
FMD clients understand the importance of regular reviews of their investment portfolios to ensure each asset is performing the expected role in their portfolio and ensuring regular action is taken to sell underperforming assets and replace them where appropriate. They also understand that our investment advice is supported by access to some of the best investment market research available.
However, until recently we have been unable to support our clients with investment property portfolio advice as the ability to access independent and comprehensive research about property markets or an individual property has been limited.
That's why we're pleased to offer a new Investment Property Portfolio Review Service in partnership with Performance Property Advisory (PPA).
We can now individually assess each of your properties against PPA's comprehensive property investment data that covers state and suburb property trends and cycles including supply and demand, population and income analysis, economic forecasts, infrastructure activity and tenancy rates. Over 30 data points are analysed to understand where these markets are in their respective cycles.
For each investment property, your initial report includes:
• A suburb rating, in terms of expected long term capital growth, liquidity and volatility
• A suburb recommendation on the Property Clock
• An individual property quality rating
• A recommended action: BUY / HOLD / CONSIDER SELL / SELL
Subsequent advice can be provided on property types or preferred locations to acquire properties if desired. These research reports assist investors to understand where each market sits on the PPA proprietary Property Clock and empowers them to make the best investing decisions with the least amount of risk.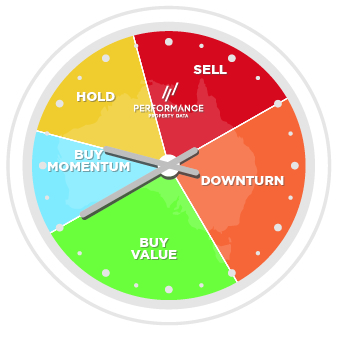 About Performance Property Advisory
Performance Property Advisory (PPA) is one of Australia's leading independent property research providers. With a team of researchers in-house, PPA conducts extensive ongoing research on the 5 major capital city markets, 25 major regional markets around Australia, and a biannual national research report analysing economic, demographic, and residential property data.
Their experienced research team analyse the top 25 population centres in Australia ranging from Sydney at the top with approximately 4.3m people all the way down to Bunbury on the west coast of Australia which has 65,000 people.
We look forward to adding this new service to the many ways we support the health, wealth and happiness of our clients. If you think you could benefit from our Property Advisory Service, please speak to your FMD adviser.
---
General advice disclaimer: This article has been prepared by FMD Financial and is intended to be a general overview of the subject matter. The information in this article is not intended to be comprehensive and should not be relied upon as such. In preparing this article we have not taken into account the individual objectives or circumstances of any person. Legal, financial and other professional advice should be sought prior to applying the information contained on this article to particular circumstances. FMD Financial, its officers and employees will not be liable for any loss or damage sustained by any person acting in reliance on the information contained on this article. FMD Group Pty Ltd ABN 99 103 115 591 trading as FMD Financial is a Corporate Authorised Representative of FMD Advisory Services Pty Ltd AFSL 232977. The FMD advisers are Authorised Representatives of FMD Advisory Services Pty Ltd AFSL 232977.