Aged care ripe for revolution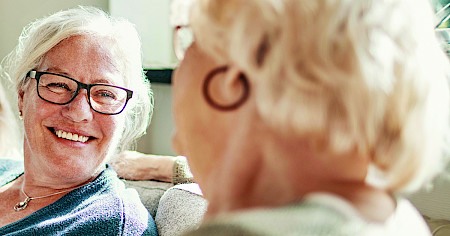 The Coronavirus pandemic has shone a spotlight on an Australian aged care system under-resourced and under pressure, with tragic results.
The crisis comes on the back of serious concerns raised in the interim report from the Royal Commission into Aged Care Quality and Safety, leaving many experts and commentators calling for urgent and deep reform of the sector.
People delaying entry into residential care due to COVID-19 means over 100,000 elders are currently waiting for in-homecare packages and demand is expected to grow further from 2030, as Baby Boomers enter their 80s.
There's no doubt, the expectations of this influential cohort will be higher than those of previous generations, driving a revolution in aged care service models.
The one-size-fits-all won't work
Older Australians increasingly have more control over their lifestyle in retirement. In the future the hope is they will also enjoy will better quality of life for longer and access to an aged care system that meets their individual needs. Baby boomers will expect dignity, community, independence and tailored services.
That means aged care providers will have to change their mindset from delivering a 'product' to curating a personalised service.
Paying for aged care
Everyone wants to see improve aged care, but the question about who will pay for it remains.
The ongoing Royal Commission recently heard submissions from experts on the funding, finance and prudential regulation of the industry. Everything from an aged care levy to a HECS-style funding- where people are extended loans to pay for their aged care and the costs were recovered from their estates- were proposed.
The current level of complexity in means-testing and residential contracts was also raised, with a broad consensus that the process needs to be simplified.
Making the most of what we have
As with most big life transitions, the move to residential aged care requires a lot of research to make the right decisions for yourself or a loved one.
The reality is those who desire a high standard of care and amenity will need to plan the best funding model with the help of a professional financial adviser who understands the system, as well as seeking help from people who know how to access the best facilities.
According to FMD Partner and aged care specialist, Dana Sawyer from MyCarePath, there are great providers out there now. "It's important not to let the well-publicised and very real challenges in aged care impact our optimism about finding a good facility for a loved one. It's about getting the right advice and knowing where to look and the best providers are already innovating and responding to changing expectations."
Planning for the best outcome
Once you've determined your budget and chosen the right facility for you or your loved one, getting the most value for your private dollar, while maximising government subsidies and support and protecting your wealth for future generations, is a complex juggling act with different considerations for each family.
A professional financial adviser can potentially save you thousands by carefully restructuring your income and assets to minimise means tested fees and maximise government benefits.
---
Get the right aged care advice
---
As with all of life's big transitions, the move to aged care requires a lot of research to make the right decisions for yourself or a loved one. It's important to understand the systems and processes so that you are empowered to make the best choices for your family and finances. In my experience, every family situation is unique and a range of financial strategies may needed to protect your wealth.
If you or someone you know are facing decisions about aged care, please ensure you speak with a trusted adviser before making commitments. Click the link above to book a consultation. There is no charge for the first meeting where I can answer your initial questions. From there we can determine whether you'll benefit from more detailed advice or financial modelling for aged care funding.
---
General advice disclaimer: This article has been prepared by FMD Financial and is intended to be a general overview of the subject matter. The information in this article is not intended to be comprehensive and should not be relied upon as such. In preparing this article we have not taken into account the individual objectives or circumstances of any person. Legal, financial and other professional advice should be sought prior to applying the information contained on this article to particular circumstances. FMD Financial, its officers and employees will not be liable for any loss or damage sustained by any person acting in reliance on the information contained on this article. FMD Group Pty Ltd ABN 99 103 115 591 trading as FMD Financial is a Corporate Authorised Representative of FMD Advisory Services Pty Ltd AFSL 232977. The FMD advisers are Authorised Representatives of FMD Advisory Services Pty Ltd AFSL 232977.