The value of financial advice

Recently we've all been reminded of the value of good financial advice in times of uncertainty. Having your finances in the best possible shape going into a crisis, then knowing a professional has your back as things play out, can be a great source of comfort and confidence.
Having a Financial Adviser = Better mental health
You might think it's a big claim – but recent research for Fidelity by Coredata studying Australians who have received financial advice puts Improved mental health among the top 3 benefits of financial advice, along with Living my desired lifestyle and Not having to worry about money.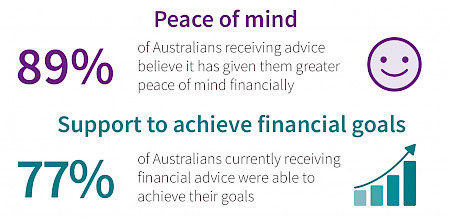 So, while many people are more likely to turn to a dietician, life coach or personal trainer for help with their personal wellbeing, it turns out that seeing a financial adviser might be just as beneficial.Our clients have told us how reassuring their adviser's experience, support and expertise has been during this time.
The latest research by global fund manager Fidelity, into the value of financial advice clearly demonstrates this. While people will always need to find the right trusted adviser for them, once they commit to an advice relationship they generally reap the benefits.

I'm not surprised by these findings. Seven years ago we adopted Health Wealth and Happiness as our mantra at FMD, because ultimately – that's what we do. We provide advice that improves our client's health, wealth and happiness and we do that by taking away the money worry - so they can live the life they want to.

Unfortunately, the trust in a financial adviser that's needed in a crisis can't just be switched on. It comes from a deep and shared understanding of a client's objectives and this needs to be built over time.
So why don't more people have a financial adviser?
The top three reasons are:
I feel I can't afford it;
I don't feel my circumstances justify it;
I can/would rather do it myself.
I agree it's not cheap and it's not for everybody, but if you are successful in your career and have a partner or family; your circumstances probably do demand it - and unless you are a determined DIYer - there is value to be had.

If you are sceptical that's understandable, just about every one of our clients started off a bit sceptical about the value of advice. Initially the focus is on the tangible aspects – like investment performance, and as a respected advisory firm with a strong investment capability, we consistently deliver for our clients.
But over time it's actually the intangible that is valued more - the certainty that comes from having a clear plan, confidence in retirement. It's the peace of mind that comes from living without financial worry, without wondering if they should be doing something more, something better to manage their wealth. That's the real value.

The evidence for this is in our client satisfaction surveys. We see a real uptick in satisfaction and perceived value after clients have been with us for 2-3 years. The service doesn't change, but the depth of relationship, peace of mind and associated mental health benefits seem to kick in then.
So, in the midst of a global health crisis, people who have good financial advice like our clients are likely to have better investment outcomes and have better mental health than those without an advice relationship.
Having trouble sleeping? Perhaps it's worth having a chat to an adviser.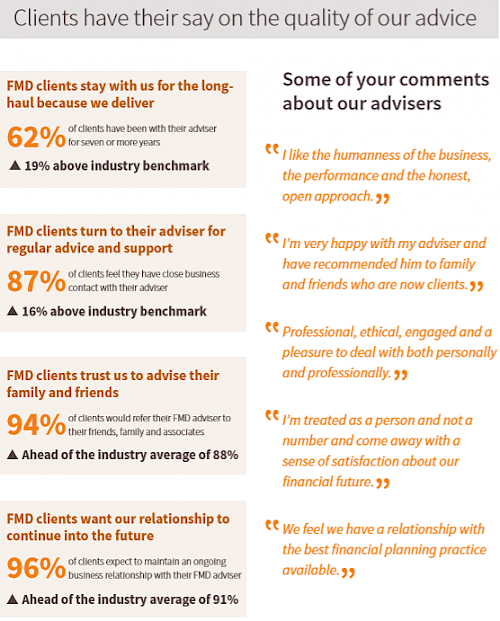 ---
Sources
* 2019 The Value of Advice: Helping Australians navigate towards a better financial future
**2019 Client Satisfaction Survey conducted by independent research partner, Business Health
---
General advice disclaimer: This article has been prepared by FMD Financial and is intended to be a general overview of the subject matter. The information in this article is not intended to be comprehensive and should not be relied upon as such. In preparing this article we have not taken into account the individual objectives or circumstances of any person. Legal, financial and other professional advice should be sought prior to applying the information contained on this article to particular circumstances. FMD Financial, its officers and employees will not be liable for any loss or damage sustained by any person acting in reliance on the information contained on this article. FMD Group Pty Ltd ABN 99 103 115 591 trading as FMD Financial is a Corporate Authorised Representative of FMD Advisory Services Pty Ltd AFSL 232977. The FMD advisers are Authorised Representatives of FMD Advisory Services Pty Ltd AFSL 232977.